The phenomenal success of Swatch, the trendy plastic Swiss-made watch that comes in a wild variety of colors, has been heralded for reviving Switzerland's struggling watch industry. But its influence has been international.
Major watchmakers such as Timex Corp. of Middlebury, Conn., and Hattori Seiko Co. Ltd. of Japan immediately scrambled to get their own plastic timepieces on the market and benefit from this new demand.
Sales increases are estimated at anywhere from 6 to 15 per cent, mostly as a result of the sudden urban demand for fashion accessories that also happened to tell the time.
"It has basically revitalized quite a traditional, quiet industry," said Andrew Menceles, president of Cosmoda Design Inc. of Toronto, which distributes the Swatch line in Canada.
The watches, which are made by Swatch SA of Switzerland, were largely responsible for the big jump in exports of Swiss watches last year: a 41 per cent increase to 25.1 million units.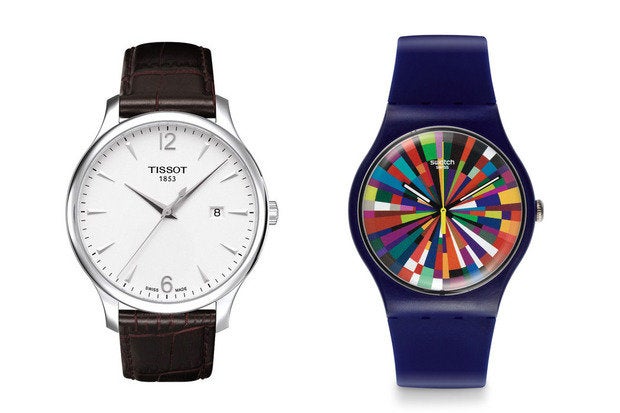 Timex does a quarterly survey of 4,000 Canadian households to gauge the watch market. It estimates that industry sales totalled $260-million in 1985, up about 6 per cent in both retail and unit sales.
"I think the Swatch and all those types of watches have contributed to that little bump," said Patrick Morris, president of TMX Canada Inc. of Markham, Ont., which distributes Timex watches in Canada.
Watchmakers are, of course, asking how long this sales phenomenon can be sustained. Swatch is credited with starting the trend, but most other companies have had their own products on the market for 18 months. Sales are expected to remain strong for at least one more year.
Mr. Menceles is reluctant to say how many Swatches were sold in Canada last year because he does not want retailers to discover what percentage of the total Canadian supply they received.
But he did say that Cosmoda's quota has increased three times from the 1984 levels and it can sell every watch it can get. International production levels have reached about 1.5 million watches a month.
"Basically, it generated additional watch business for everyone," said Rodney Smith, president of SC Time Inc. of Toronto, which distributes Seiko, Pulsar, Lorus and Lassale watches in Canada.
Virtually all of the major watchmakers jumped on the bandwagon, selling their own colorful plastic timepieces for between $30 and $50. Not since the arrival of the digital watch almost 10 years ago had the market seen such a sudden jump in consumer demand.
Swatch has spent heavily to market its product in major Canadian centres, urging trend setters to "Swatch yourself" by wearing several watches. And it is keeping a high profile among younger consumers by sponsoring events such as freestyle skiing and concerts by the Thompson Twins.
But because Cosmoda's quota of Swatch watches has limited the supply in Canada, many sales have gone to competitors. Mr. Menceles believes consumers buy the other watches only because they cannot get a Swatch, but he said people will also wait until they can buy the brand name.
Judging by sales jumps at other companies, however, not everyone is concerned about sporting one brand name over another.
To maintain sales, Swatch has embarked on an extensive merchandising plan that involvesmanufacturing clothing that bears the Swatch trademark, along with sunglasses and umbrellas. Cosmoda has also sponsored a Canadian student design competition and will make and distribute the winning products in Canada.
His competitors agree that the demand for fashion watches will continue for another year. They also predict that the market will shift away from an emphasis on bright colors toward the design of the watch. Ultimately, watchmakers expect the Swatch revolution to end.
"The president and the chairman of the board will put them back in the drawer and go back to their Rolexes and Piagets," said Paul Sagar, director of marketing at TMX Canada.
The increase in fashion watch sales has not been to the detriment of traditional, more expensive watches. Most of these watches are purchased as gifts to mark occasions such as birthdays and graduations. Demand has remained stable for Seiko watches, Mr. Smith of SC Time said.
TMX Canada thinks there is enough strength in the Canadian market to begin distribution of the Tissot line of Swiss watches this fall. They will sell for between $100 and $3,000.